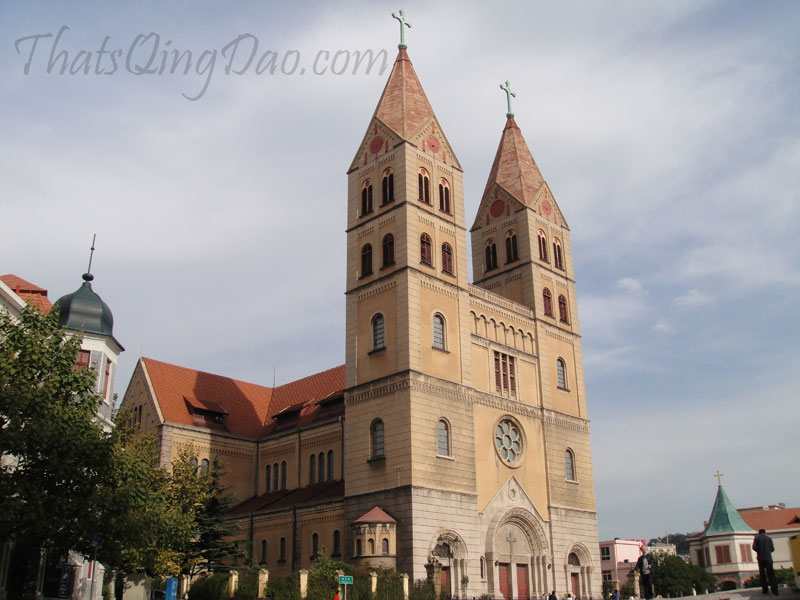 St. Michael's Cathedral (圣弥爱尔大教堂), a Catholic Protestant Church located on ZheJiang Road in Qingdao Old Town, was erected by the Divine Word Missionaries (abbreviated "SVD," from their Latin name: Societas Verbi Divini) in 1934. The main entrance is centered on the south side of the building facing Qingdao Bay.The two soaring towers are 56 meters high and each crowned by a 4.5 meter high cross.
History of St. Michael's Cathedral (圣弥爱尔大教堂)
Brother Theophorus Kleemann, SVD, began construction of St. Michael's Cathedral (圣弥爱尔大教堂) in 1931. After his passing in 1933 the project was taken over by Arthur Bialucha and completed in 1934. In 1942 St. Michael's Cathedral (圣弥爱尔大教堂) came under the control of the Japanese Army who had place a sign above the main entrance reading "Under Management of the Japanese Army".
It returned to Chinese control when the Japanese left Qingdao in 1945. In the early 1950's, all foreign missionaries, including the Bishop of Qingdao, were either imprisoned or expelled from China, and during the Cultural Revolution under Chairman Mao (1966–1976) the cathedral was defaced and abandoned. In 1981, it was repaired by the government and reopened for services, and in 1992 it was listed as a Provincial Historic Building by the government of Shandong Province. Today St. Michael's Cathedral (圣弥爱尔大教堂) is closed to the public and is often used by local photographers for a wedding photo backdrop.
Where is St. Michael's Cathedral Located?
St. Michael's Cathedral (圣弥爱尔大教堂)
15 ZheJiang Road
Shinan, Qingdao, Shandong, China 266000
浙江路15号, 中国山东省青岛市市南区
Hours & Admission
Hours: 08:30 – 17:00
Admission: 3 RMB
青岛圣弥爱尔教堂属天主教新教教堂。 教堂占地面积11480平方米,建筑面积2623.57平方米。建筑平面采用拉丁十字式,主入口设在南侧中央。两个高耸的塔楼高56弥,顶端各立一个高4.5弥的十字架塔。 塔楼共有六层,一层两侧均设计有便门与中间主入口呼应,二、三层设计为单窗,四、五层则改为双窗,以突出建筑立面纵向的划分,六层则结合塔尖起小山墙开圆窗。
Photograph © Colton Dirks