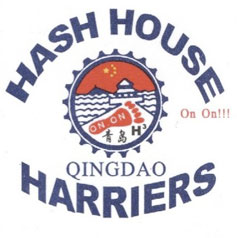 3rd Century Run No. 300 & Hash Bash, Saturday November 3, 2012. Hares: Well Hung Jury "Steve"-Pleases the Court "Sarah." This will be a classic downtown Qingdao run. We will enjoy both the seashore and the mountains. The theme will be famous Qingdao literary figures. Some of the run will be familiar, some of the run will be new.  There will be a runners trail and a walkers trail. There will be a beer stop. There will be a beautiful on-in with beer and excellent views.Plan to attend? Please RSVP to  qingdaohhh@gmail.com
Details:
Costs: Run: Details below for hashers & harriettes and horrors (have to be 10 years or older to attend our runs) for bus & beers/water – Horrors MUST BE ACCOMPANIED by one or both parents on ALL OUR RUNS, unaccompanied Horrors will be sent back home !!  Dinner is optional and will be at an added cost if you decide to stay!  Horrors will have to be minimum 16 years or older to attend our dinners, they will share the costs equally like everybody else (read, NO DISCOUNTS!).
Please pay special attention to the details below for this very special run:
(1) Run fee for people that RSVP directly to Straydog "Chris" liptau@gmail.com BEFORE Friday, Nov.2, 12 PM is 120 RMB. (2) Run fee for people that forget to RSVP or just show up at the run on Saturday Nov. 3 is 150 RMB. (3) No discount for children this time (age specifications above in the run/dinner costs section). (4) No children under 10 allowed on the run and to attend dinner – a horror needs to be minimum 16 years or older! (5) Run fee includes Run, Transportation, All you can eat hamburgers & salad, lots of beer, a very nice shirt (various sizes available), other surprise presents and more. (6) White Hash T shirts will also be on sale at a special price of 50 RMB. (7) To fund future events we'll also welcome donations at Dinnertime.Meeting Place and Time: Meet at Hotel Crowne Plaza lobby at 2 PM for a 2.15 PM SHARP hare off!! We will take an bus # 228, 501, 321 to Shengwuguan bus stop on Hong Kong West Road (胜武关,香港西 路). The hares will meet the pack at the run start point so please don't wait for them to join you at Crowne Plaza for the bus ride to the run site!!! Run starts as soon as we all reach the start point, approximately by 2.30- 45 PM!
Receding Hareline:  Please let Well Hung Jury know if you are available to hare a date below, thanks!
Run No. 301 – November 10 – Loopy "Linda" & Catarina – Black Saturday run: Linda's 50th Birthday
Run No. 302 – November 17 – Greg & Holly (double virgins, the dawn of the Age of Aquarius in Qingdao)
Run No. 303 – November 24 – Tomas
Run No. 304 – December 1 – WE NEED HARES !!
Run No. 305 – December 8 – WE NEED HARES !!
Run No. 306 – December 15 – WE NEED HARES !!
Run No. 307 – December 22 – CHRISTMAS SANTA RUN – WE NEED HARES !!
Run No. 308 – December 29 – NEW YEAR EVE RUN – WE NEED HARES !!
Planned Out of Town Specials:
We will keep you posted as and when they come up!! Want to volunteer for haring? Know someone who wants to hare? Please contact our Hare Raiser "Well Hung Jury".
–
On On !!
Premature Finnish & Team – Hare Raiser/Trail Master
E: qingdaohhh@gmail.com
Facebook: www.facebook.com/QdHHH – Drinking club with a running problem
Qingdao China Guide: Qingdao Hash House Harriers (HHH)
Global Hash Trash: www.gthhh.com