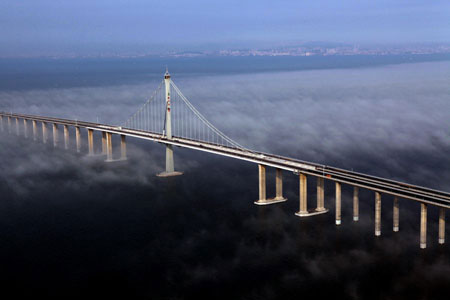 After the opening of the Qingdao-Huangdao Haiwan bridge (pictured left) and sub-oceanic tunnel, Huangdao is now more accessible to tourists from Qingdao City. Huangdao has ramped up its series of projects totaling 3.27 billion RMB to enhance its tourism infrastructure. Projects include: 11.2km long coastal road around Huangdao, amusement parks, cultural activities areas, and enhanced beach areas along with other wetland areas. This project will also include 15 new hotels including Hilton Golden Beach hotel, JinJiang hotel, HaiDu hotel, ZiChanShan hotel, Phoenix Hot Spring Resort hotel, Sophia hotel, and many more.
Huangdao Economic and Technological Development Zone (Kaifaqu)
Kaifaqu is south of the Free Trade Zone and is where you will find the majority of the expat community along with the expat run local businesses. Here is where you will find KFC, Starbucks, Pizza Hut, and the Huangdao Jusco.
Huangdao Golden and Silver Sand Beaches (Xuejiadao)
Located east of Kaifaqu is Xuejiadao. This is where you will find the popular Gold and Silver Sand beaches. These areas are currently experiencing a development boom. Silver beach is getting ready for a 60 million RMB facelift which will include a new Eco Botanical Garden. The Hilton Golden Beach hotel is set to open September 2011.