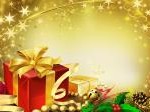 Home sickness is setting in the closer an expat gets to Christmas. You wake up one day, realizing the Qingdaonese are celebrating, and you haven't even cleaned your flat yet. The big department stores including but not limited to Jusco, Carrefour, Sunshine Plaza, Hisense Plaza, and Metro are selling some Christmas items at sky high prices. Jusco has a nice supply of Christmas Cards on the second floor. Sending a Christmas card from China means a lot to those loved ones back home. Qingdao has loads of post offices, so there is no excuse.
The cheapest place to get your Christmas decorations with lots of variety is the LiJin Wholesale Market (LiJin PiFa ShiChang) located in Taidong on the corner of ChangYi and LiJin Roads.
It's an outdoor/indoor market with maze of small stores. They sell all most everything! They have many stores that sell Christmas items from trees to posters.  The LiJin market is located on the Stationary Street on Chang 1st Road. There are entrances all around the complex but the main one on the corner or ChangYi and LiJin Roads. It is located three blocks behind the Taidong Pedestrian Walk Way.
LiJin PiFa ShiChang
LiJin Road (on the corner of LiJin and ChangYi Roads)
Taidong, Shibei District