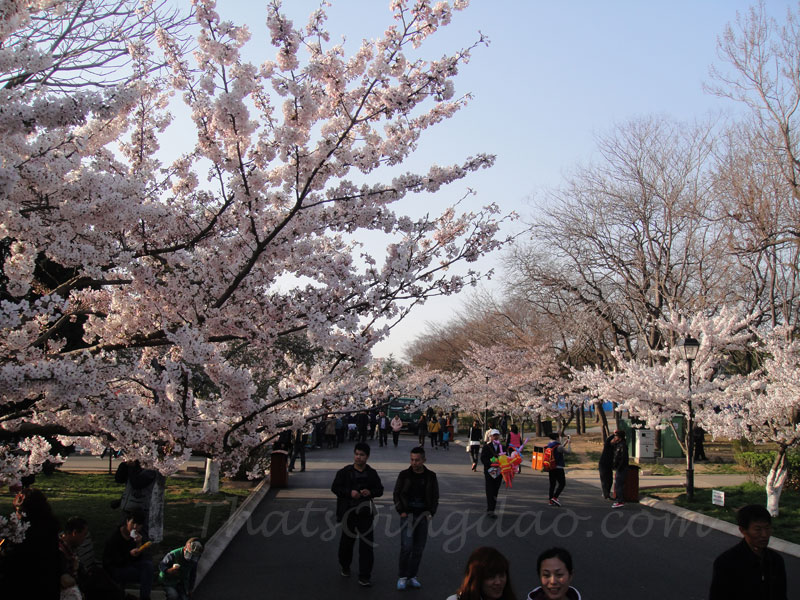 ZhongShan Park (中山公园) in Qingdao, praised as "Dongyuan Flower Sea," has numerous botanical gardens/areas named after flowers & plants such as Oriental Cherry Road, Plum Blossom Road, Chinese Herbaceous Peony Garden, Osmanthus Flower Garden, and Peach Garden as well as other tourists sights like Little West Lake and Sun-Wen Lotus Pond.
The Qingdao Zoo and cable cars that ascend to TaiPingShan where the Qingdao TV Tower is located are at the north end of ZhongShan Park. The north entrance to ZhongShan Park is located on YaNan 1st Road.
Where is ZhongShan Park Located?
Qingdao ZhongShan Park (青岛中山公园)
28 WenDeng Road
Shinan, Qingdao, Shandong, China
文登路28号, 中国山东省青岛市市南区
Telephone: +86 (532) 8287-0564
ZhongShan Park Annual Events
ZhongShan Park Cherry Blossom Festival: The 500-meter-long Oriental Cherry Corridor (Sakura Road) is a famous scenic spot featuring 20,000 Japanese cherry trees. Every April and May, the Cherry Festival attracts thousands of admirers to view the delicate pink blossoms.
ZhongShan Park Lantern Festival: Ideal for late night summer strolls with your loved one especially on QiXi which falls on July 7th of the Chinese Lunar Calendar. The red lanterns along with the many illustrations of Chinese fairy tales will help bring good luck and happiness for the upcoming New Year.
ZhongShan Park Hours & Admission
Hours: 06:00 – 22:00
Admission: Free