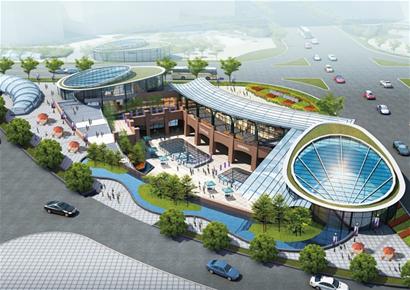 The Qingdao Grand Central Plaza (地下产权商业中心项目青岛), located in the ShiBei Central Business District, will be the largest underground shopping plaza in Asia covering an area of 95,000 Sqm upon its completion. Construction started yesterday with a total investment of 8.6 billion RMB.
The Qingdao Grand Central plaza will connect LiaYunGang Road, DunHua Road, LongCheng Road, NanJing Road and ShanDong Roads with more than 30 pedestrian entrances which will connect Nordisk Plaza, Fortune Plaza, Eurasian center of excellence Square, and Wanda Plaza.
Along with a full range of shops and department stores, this massive underground shopping plaza will also provide an entertainment venue with an assortment of multinational restaurants for the residents of northern Qingdao City.
Qingdao Grand Central Plaza's core area is located at the DunHua (敦化路) and LianYunGang Road (连云港路) junction, which is called Central Square. The ShiBei Central Square (中央广场商业区) will be one of Qingdao City's new iconic landmarks.
Related Links:
Qingdao Supermarkets, Department Stores, Shopping Malls & Plazas