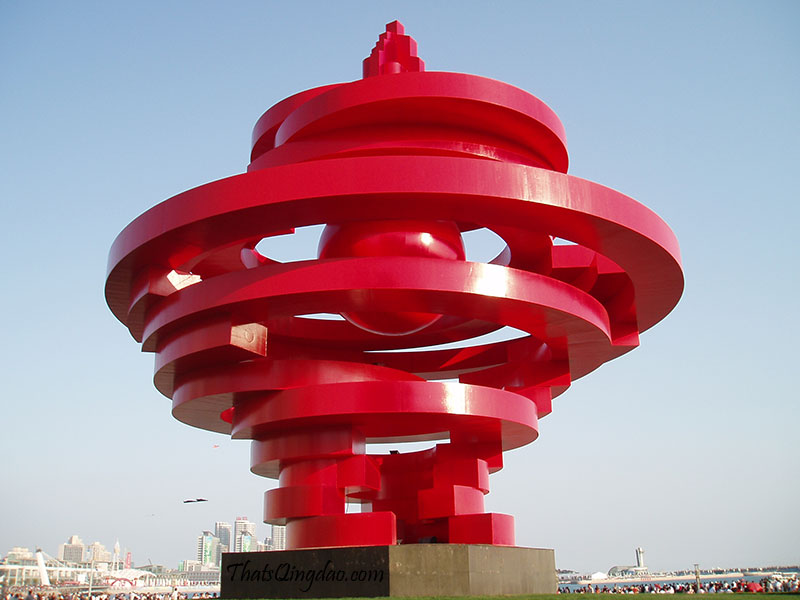 Qingdao's May Fourth Square ( 五四广场 wǔsì guǎngchǎng) got its name in memory of the May 4th Movement. Located between the new municipal government building and FuShan Bay, it is composed of the ShiZhengTing Square, the central square, and the coastal park. These three parts have their own features and the whole square is a combination of local Qingdao features and modern design.
History of May Fourth Square
The May 4th Movement (五四运动, wǔsì yùndòng) was sparked by Article 156 of the Treaty of Versailles which transferred German concessions in Shandong including Qingdao to Japan rather than returning sovereign authority to China. Chinese outrage over this provision ignited mass student demonstrations in Beijing on May 4th, 1919 which resulted in the cultural movement know today as the May Fourth Movement. The May 4th Movement influenced the Chinese delegation not to sign the Treaty of Versailles. China declared the end of its war against Germany in September of 1919 and signed a separate treaty in 1921.
Where is May Fourth Square Located?
May Fourth Square (五四广场)
35 DongHai West Road
Shinan, Qingdao, Shandong, China  266000
东海西路35号, 中国山东省青岛市市南区
Telephone: +86 (532) 114
Hours & Admission
Sunday to Saturday: 24 hours
Admission: Free
Closest Bus Stops
Wu Si Guang Chang: #317
From City Government (XiangGang Zhong Lu)
Shi Zheng Fu: #104, #231, #311, #316, #321, #374, #501, #801.