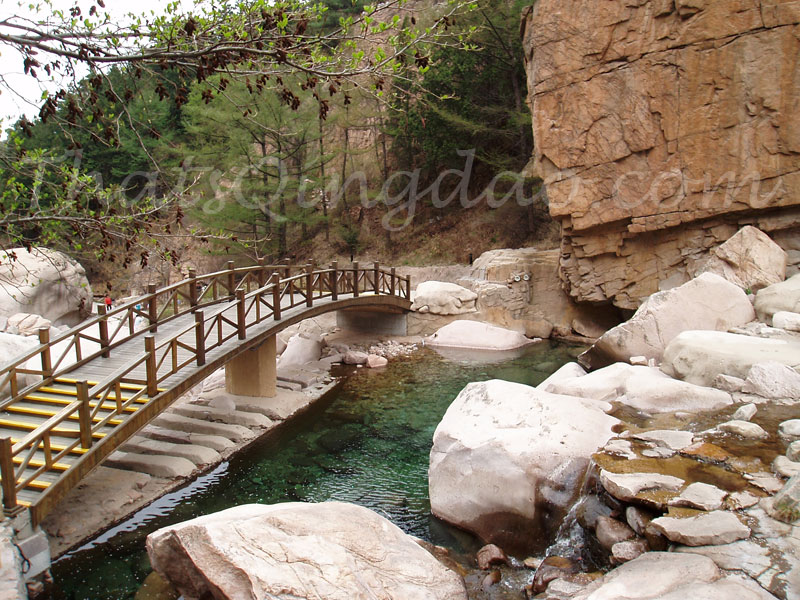 Mount Lao
 (Láo Shān 崂山) Scenic Area, hailed as the shrine of Taoism and approved as one of China's first national parks, is located about 30-40 km from
Qingdao
City (depending upon which route taken). Mount Lao (LaoShan 崂山) Scenic Area is accessible via three land routes (eastern, southern, and central). Laoshan, named in the Tang Dynasty, has nine tourists areas: JuFeng (the peak), DengYing Village, LiuQing River, TaiQing Palace, ShangQing Palace, QiPan Stone, YangKou Beach, BeiJuiShui, and HuaLou Mountain.
The central route to BeiJuiShui (North Nine Waters) is surrounded by picturesque landscapes.
The eastern route to YangKou Beach passing through TaiPing (Peace) Palace and QiPan (Chessboard) Stone Area is ideal for photographers wanting to capture a magnificent sunrise over the sea.
Hours: 7:00 – 18:30
Admission (Apr. 1st to Oct. 31st  ):
90RMB for Liuqing, Yangkou, and Taiqing Scenic Areas.
80RMB for JuFeng Scenic Area.
Qingdao Public Bus Routes
South: 104, 113, 304
East: 123, 312
Central: 107, 110, 311, 365