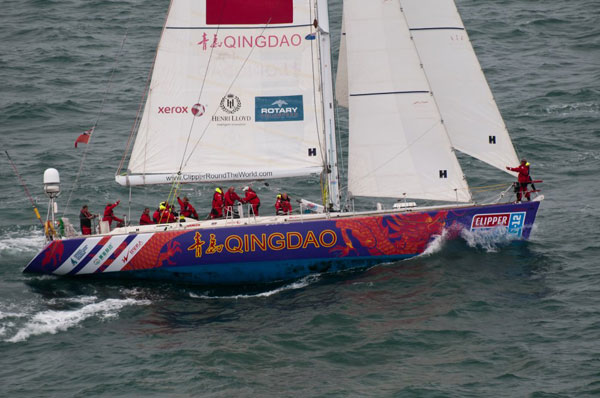 The Clipper 2011-12 fleet will be greeted off the shores of Qingdao,
China's Sailing City
, with a grand welcoming regatta of 100+ vessels consisting of large sailing yachts, naval ships, and fire-boats as they start to arrive in Qingdao (EDA 22nd February 2012). After the long tedious journey from Singapore that took them from the melting heat and humidity of the southern hemisphere to the freezing temperatures and howling winds of the Yellow Sea, the Qingdao Clipper and the rest of the fleet will receive an emperor's welcome at the
Qingdao International Marina & Olympic Sailing Center (OSC)
.
Qingdao's unprecedented grand welcoming regatta & ceremony will soundly ring in China's participation and sponsorship to host future Clipper 2013/14 and 2015/16 international sailing events. Qingdao, China's Sailing City, has now become the first destination in the world to sponsor six editions of the unique biennial sailing event starting back in 2005.
A welcome dinner & grand awards ceremony will be held on February 28th with a blend of local Chinese culture and Western theatrical performances in dance, ballet, and magic.
After a 10 day stopover in Qingdao the Clipper 2011-12 fleet will began leg 6, a long journey across the Pacific Ocean to San Francisco California, USA.
Schedule of main events during the Clipper 2011/12 Qingdao Stopover
22nd-25th February 2012  ::  Grand Regatta Welcome Ceremony  ::  Marina & Olympic Sailing Center
28th February 2012  ::  Welcome Dinner & Awards Ceremony  ::  Qingdao Sea View Garden Hotel
4th March 2012  ::  Farewell & Start of Leg 6 Across the Pacific  ::  Marina & Olympic Sailing Center
Godspeed to all:  Photo © onEdition 2011