Qingdao Travel & Living Guide » Qingdao International Beer Festival
Qingdao International Beer Festival
The 24th Qingdao International Beer Festival (第24届青岛国际啤酒节2014) will be held at Century Plaza (崂山区世纪广场-青岛), located behind the International Convention Center in Laoshan District.
Confirmed Dates: August 16th – 31st , 2014.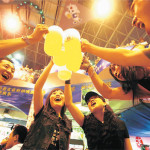 A festival in honor of the nectar of the gods, beer — how great is that?  Every summer, usually starting the second weekend of August, Qingdao (青岛)  hosts the largest beer festival in Asia with international breweries from all over the globe flocking to the sandy shores of China's Sailing City in Shandong Province.  If you are a serious drinker or a casual weekend enthusiast, you'll see the best of China's beer drinking culture at this event.
Picture huge tables filled with beer-swilling, elated Chinese and beautiful women performing on stage as the sound of Gan Bei 干杯 ! (bottoms up) rings out across the numerous beer tents.  With music of all kinds featured at the numerous stage venues and beers from around the globe: Beck's from Germany, Kirin & Asahi from Japan, Carlsberg from Denmark, Corona from Mexico, Heineken from Holland, Tiger from Singapore, Budweiser from the states, and of course China's Tsingtao Beer, just to name a few, it truly is an international event.
As a foreigner, you'll be swamped with offers of free beers to "GanBei 干杯."  I've gone to the beer festival in the past and not had to buy a single beer.  The Chinese are generous and kind, they are happy to show foreigners a good time.  I've seen only a couple of fights all the times I've been there, and that's pretty amazing considering the amount of drinking that's going on.  How good is the Qingdao Beer Festival?  Take it from a professional drinker, you'll have a good time! ~ Chad
The annual event, which started back in 1991 as the 100th birthday celebration of Qingdao City, lasts for two weeks and begins with a grand opening concert and ceremony, followed by beer tasting, evening entertainment, drinking competitions, carnival events, and concluded with a themed final ceremony.  This event has matured over the years into Asia's largest annual beer festival with themed mascots that follow the animals of the Chinese Zodiac.  The 2014 mascot is "" the horse.  Besides beer there's tons of food, both Chinese and Western, to gorge on when you get the munchies.  And don't forget, beautiful Shilaoren beach is just a 30 minute walk away!   Mount Lao Scenic Recreation Area, only 30-40 minutes by bus or taxi from the Beer Fest, offers a refreshing reprieve from the hustle and bustle of the beer fest.
24th Qingdao International Beer Festival (第24届青岛国际啤酒节)  August 16th – 31st, 2014:
* 2014 Theme: "全城同欢,激情共享" – City with Joy, Passion, & Sharing.
* Grand Opening Concert @ TianTai Stadium:  (15th August, 2014 @ 7:30pm) – TBC
- Concert Admission:  80¥ to 2880¥ CNY
- Concert tickets: Online Ticket Sales
Tsingtao Beer Passion Square (Century Plaza)  09:00 – 22:30,  August 16th-31st, 2014:
-  Grand Opening Ceremony:  August 16th, 2014
-  Qingdao GanBei with the World! (青岛和世界干杯):  August 30th, 2014
-  Closing Ceremony:  August 31st, 2014
Beer Festival General Admission
-  10 RMB (09:00 – 15:00) — ticket sales begin at 8:30am.
-  20 RMB (15:00 – 22:30) — tickets sold until 22:30 on Friday & Saturday; 22:00 Sunday – Thursday.
For more information call +86 (532) 8889-2376
Hotels close to Tsingtao Beer Passion Square (Qingdao Century Square):
* Hyatt Regency
* Kilin Crown Hotel (Best Western)
* Sophia International Hotel
* SPR Hotel
* Blue Horizon Hotel
* Home Inn
Other Places of Interest:
* Old Town - Full of German architecture and historical attractions.
* Qingdao Beer Street - Located in Taidong and centered around the Beer Museum & Tsingtao Beer Bar.
* Tsingtao Brewery Museum – China's first beer museum and home of Tsingtao Beer.
* May Fourth Square – Monument to China's May 4th Movement near the Olympic Sailing Center & International Marina.
* Zhanshan Temple – Close to the downtown Central Business District and the only temple and active Buddhist monastery located within Qingdao city limits.