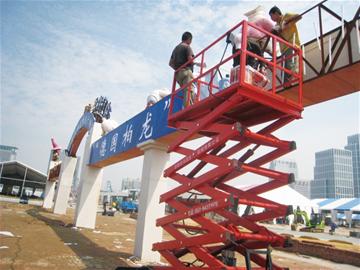 Groundwork begins as tents are going up at Qingdao Beer City in preparation for the 2011 Qingdao International Beer Festival to be held August 13th through August 28th.
The Grand Opening Ceremony & Concert, starting at 8:00pm on August 12th, will be held at TianTai Stadium on WenDeng Road across from ZhongShan Park.
The concert will include both international and domestic super-stars including Chinese pop stars Wang Lihong, Chen Huilin (Kelly Chen), and former Super Junior star Han Geng.
To enhance the beer fest experience, Qingdao Beer City will be turned into an Amusement style park with less carnival type entertainment as in previous years.
According to the organizing committee, this year's security will be beefed up with 50 high-definition camera's to provide real time protection without any blind spots.