Qingdao – China's Sailing City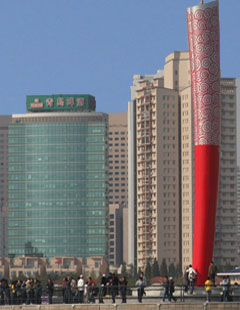 Qingdao, China's Sailing City, with its abundance of natural beauty, talented human resources, three central business districts, and the new Blue Silicon Valley along with the Economic and Technological Development Zone (QETDZ) located in Huangdao, continues to attract tourists and international businesses from around the globe.
In 2008, Qingdao successfully hosted the Sailing Regattas of the 29th Olympic Games as well as the 13th Paralympic Games at the Olympic Sailing Center & International Marina.  In 2009, the China's Sailing City welcomed sailors from the Volvo Ocean Race (VOR 2008-2009).
The coastal waters of Jiaonan, which is now part of Qingdao's Huangdao District, is home to China's first aircraft carrier Liaoning.  The naval base, home to the North Sea Fleet, extends into the mountains behind the seaport and has extensive underground facilities that house a compliment of nuclear missiles and ammunition.  In April 2014, US Defense Secretary Chuck Hagel toured the carrier Liaoning at the naval base during his first official visit to China.
In 2014, Qingdao hosted the International Sailing Week (青岛国际帆船周), SINO CES (中国国际消费电子博览会), International Beer Festival (青岛国际啤酒节), World Horticultural Exposition (青岛世园会), and the Clipper Round The World Yacht Race for it's 5th consecutive time, with confirmation of the first Metro Lines coming online in late 2015.
In 2015, Qingdao will re-organize its jurisdiction.  It will consist of eight districts (Shinan, Shibei, Licang, Laoshan, Hongdao (previousley Chengyang), Huangdao, Jimo and Jiaozhou) and four county level cities (Pingdu city, Laizhou city, Zhucheng city and Gaomi city).












Historical Dates & Events
Qingdao (青岛; 青島; Qīngdǎo; Tsingtau; Tsingtao; Jiāo'ào (胶澳); Qindao: (琴岛); Jiaozhou; Kiaochow; Kiauchau; Kiautschou) was a German concession from 1897 to until the First World War broke out in 1914.  During the Seige of Tsingtao the Japanese took control of the region while declaring war on Germany.  In 1919 the May 4th Movement was launched and protesters against the Chinese government's decision to yield to Japanese pressure demanded the recommencement of sovereignty over the region.  The city reverted to Chinese rule in 1922, but was occupied by Japan again in 1938 during WWII with plans of territorial expansion into China's coast.  In 1945, After Japans defeat during World War II, Qingdao served as the headquarters of the Western Pacific Fleet of the US Navy.
On September 2, 1945, the U.S. Marines were ordered to participate in the occupation of certain areas of China primarily to assist Chiang Kai-shek's government in the surrender and disarmament of Japanese troops.  In October 1945 the USS Alaska, allowed by the Kuomintang, occupied the city which at that time was called Tsingtao.  The 6th Marine Division, under the command of General Lemuel C. Shepherd (later Commandant of the Marine Corps), was ordered to carry out the mission in the Tsingtao-Chefoo area.  The 6th Marine Division was deactivated on March 31, 1946 and the Tsingtao command size was sized down to become a reinforced brigade.  In May, 1947, after more reductions in force, the command became Fleet Marine Force, Western Pacific ("FMFWesPac").  Some Marine units remained in Tsingtao until early May, 1949.  Tsingtao was also the headquarters of the Western Pacific Fleet of the US Navy from 1945-1949 and the Marines provided security for the naval facility in the northwest part of the city.
On June 2nd, 1949, the Communist Party of China (CPC) People's Liberation Army entered the City; Shandong and local municipalities have been under People's Republic of China (PRC) control since that time.
Geography, Demographics, Economy, & Tourism
Qingdao, also know as the Switzerland of the east and China's Sailing City, lies on the southern tip of Shandong Peninsula in Jiaozhou Bay facing the Yellow Sea.  Qingdao has six urban districts (ShiNan, ShiBei, LiCang, LaoShan, ChengYang, and Huangdao) and jurisdiction over four county level cities (Jimo, JiaoZhou, PingDu, LaiXi) under its jurisdiction with 10,645 square kilometers of land and a population of more than 8.7 million.
As one of China's most important independent coastal cities with state planning and budgeting powers including provincial power in economic management, the city has experienced rapid growth over the last decade.  Qingdao's Port is the second-largest such facility in China and handles imports of more natural rubber, cotton and crude oil than any other port in the country.  The Qingdao Economic and Technological Development Zone (QETDZ), located in Huangdao, along with three Central Business Districts (one near the international marina & water sports center, east of May 4th Square and the city government building, the other in Shibei District near the city library and archives, and a third in Laoshan District near the international convention center) combine to form Shandong's premier coastal international business Mecca and Blue Silicon Valley.  Qingdao's major industries include trade, light industry, home appliances, petrochemicals, vehicles, textile processing, food processing, machinery, pharmaceuticals, tourism and oceanography research.
Qingdao is well known for its European architecture, attractive coastal landscape, and local folklore including mystical Mount Lao, Badaguan, Tsingtao Brewery Museum, Zhanshan Temple.  With its abundance of natural beauty and growing human resources, the year-round schedule of international events and seasonal tourist attractions – coupled with extensive public transportation networks and beach resorts – make the city an ideal tourist destination for both domestic and international travelers.
Featured Events, Attractions, and Festivals
5th Extreme Sailing Series — Qingdao Act 3 (April 30th – May 3rd) 2015
International Blueberry Festival — June-July, 2015.
International Tea Culture Expo — June 12th-15th, 2015.
China International Consumer Electronics Show (SINOCES) — July 10th-13th, 2015.
Qingdao Ocean Festival — August 7th-9th, 2015.
25th Qingdao International Beer Festival — August 8th – 30th, 2015.
International Auto Industry Expo — September 9th-14th, 2015.
ISAF Sailing World Cup Qingdao — September 14th-20th, 2015.