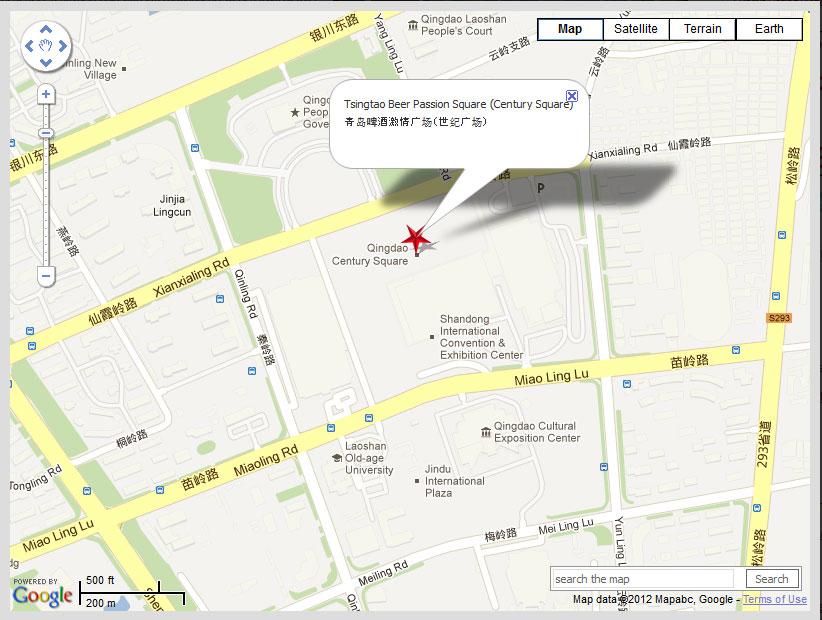 The 2012 Qingdao International Beer Festival will begin with an opening ceremony and concert at
TianTai Stadium
on the evening of August 11th, 2012. Daily scheduled events start at 9:00am on August 11th and last until the closing ceremony on August 26th, 2012 at
Tsingtao Beer Passion Square (Qingdao Century Square)
rather than Qingdao International Beer City.
Tsingtao Beer Passion Square (青岛啤酒激情广场), also known as Qingdao Century Square (青岛世纪广场), is located about 1000 meters north of Qingdao Beer City just behind the Qingdao International Convention Center as indicated on the map above.
The 2012 Beer Fest  venue boasts the largest LCD screen in Qingdao with more than ample space for vendor tents, carnival shows, and even a hall that has the feel of the true Munich style Oktoberfest.
China's first ever IndyCar Race was scheduled on the weekend of August 19th, 2012 during the Qingdao International Beer Festival but the new Qingdao Administration rescinded the original contract.
Ganbei! (青岛和世界干杯)