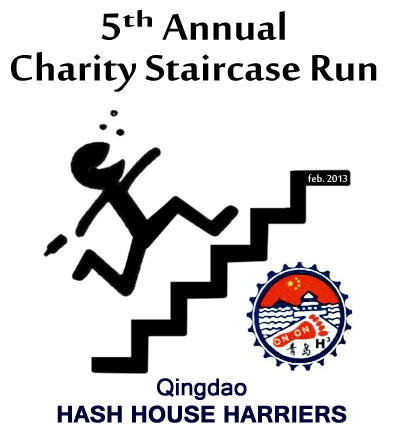 The Qingdao HHH Charity Staircase Run started with an idea back in 2009 and since then has tortured the legs and feet of many to became one of Qingdao's most exhausting but also most enjoyed charity events. While the first run in spring 2009 saw only a bit more than 20 runners, the number of runners have increased steadily to almost 50 runners in 2011. It is a very challenging race which leads the runners from the basement up the staircase, through two evacuation floors all the way to the top floor. That is about 40 floors and many many stairs. Some people seem to fly up (or take the elevator, as some say) and those fast runners reach the top in a bit more than 6 minutes. The winning time in 2011 was a quick 6 minutes and 21 seconds!
But it is not only the running that makes the event interesting. Various supporters and sponsors are donating prizes and hand out presents to the runners and spectators. While the runners are on their way, the others can stay refreshed with beer and other drinks. For 2013 the donated prizes are worth thousands of RMB. Luckily for the average runner, not only the fast runners will be rewarded because the prizes are handed out also in categories like "slowest", "oldest", "worst dressed" or simply "5th fastest woman." For this year the donated prizes range from 500RMB restaurant voucher in Napoli68, to a bottle of good Scotch all the way to a cooking class. Supporters this year include Napoli68, Thai Me Up, Carnegie's, Strong Ale Works Brewery, Hanbur Bakery, France Bacchus Wine, Shangri-La Hotel, and of course Crowne Plaza Hotel.
All the money that is raised this year will be donated to a local charity group called Agape. This group is run by Chinese volunteers and is recognized by the local government. They have various projects in Qingdao and even Shandong and we can be sure that our donation is used where it is needed the most. More information about the charity group can be found at www.eastwest.cc/en.asp?id=3 (English) and here www.eastwest.cc/cn.asp?id=3 (Chinese). It is a group that deserves some support.
The Qingdao Hash House Harriers invite you and your friends and family to come and join the Staircase Run on Saturday 23, February at 2pm in the Crowne Plaza Hotel. There is a run fee of RMB 50 for each runner. Apart from that there will also be a lucky draw, special shirts for sale as well as personal and group challenges to make this run memorable for all participants. On on!