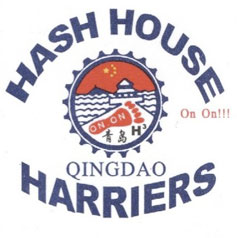 Run No. 299 – Saturday October 27, 2012. Hares: Whores' Whisperer "Philip" & virgin hare Tomas. The purpose of this run will be to explain the meaning of life. The trail can be both twists & turns and straightforward, the street scape can be both unimaginable and predictable. We will have a good beer circle along the trail, we will have a even better On In where we can enjoy the fresh bottle beer made a few days or even hours ago! That is truly the meaning of life. Note also that this is the last run for a while for Premature Finnish (Timo). So please be sure to give him an excellent Qingdao send off. Plan to attend? Please RSVP to qingdaohhh@gmail.com
Details:
Costs: Run: RMB 10/head for hashers & harriettes; RMB 5/ head for horrors upto 12 years old for bus & beers/water – Horrors MUST BE ACCOMPANIED by one or both parents on ALL OUR RUNS, unaccompanied Horrors will be sent back home !! Dinner: is optional and will be at an added cost if you decide to stay!
Meeting Place and Time: Meet at Hotel Crowne Plaza lobby at 2 PM for a 2.15 PM SHARP hare off!! We will take an appropriate bus/walk to the run start point. Run starts as soon as we all reach the start point, approximately by 2.30- 45 PM!
Receding Hareline: Please let Well Hung Jury know if you are available to hare a date below, thanks!
Run No. 300 – November 3 – Well Hung Jury "Steve" & Pleases the Court "Sarah"
Run No. 301 – 10 – Loopy "Linda" & Catarina – This is a black Saturday run: Linda's 50th Birthday
Run No. 302 – November 17 – Greg and Holly (double virgins, the dawn of the Age of Aquarius)
Run No. 303 – November 24 – WE NEED HARES !!
Run No. 304 – December 1 – WE NEED HARES  !!
Run No. 305 – December 8 – WE NEED HARES !!
Run No. 306 – December 15 – WE NEED HARES !!
Run No. 307 – December 22 – CHRISTMAS SANTA RUN – WE NEED HARES !!
Run No. 308 – December 29 – WE NEED HARES !!
Planned out of town specials:
We will keep you posted as and when they come up!!
Want to volunteer for haring? Know someone who wants to hare? Please contact our Hare Raiser "Well Hung Jury"
–
On On !!
Premature Finnish & Team – Hare Raiser/Trail Master
E: qingdaohhh@gmail.com
Facebook: www.facebook.com/QdHHH – Drinking club with a running problem
Qingdao China Guide: Qingdao Hash House Harriers (HHH)
Global Hash Trash: www.gthhh.com