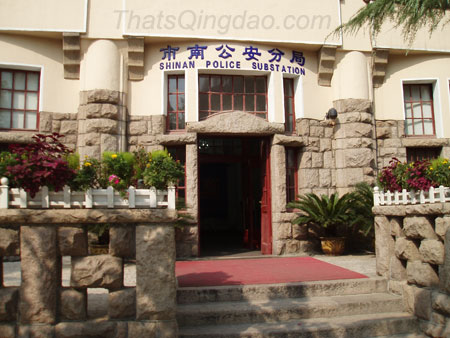 GuangXi Road, formerly named Prince Henry Road, runs parallel to Qingdao Bay and intersects with ZhongShan Road in Qingdao Old Town. In the heart of Old Town, this historic street is a great place to start your exploration of the
Sailing City's
international roots. As one of Old Town's main arteries it contains numerous
"must see" attractions
that give Qingdao its unique European style.
Bus Stop – Zhan Qiao: #25, #223, #225, #304, #311, # 312, #316, #321, #501, #801
Site of Courtyard (Marquis) Hotel:
37 GuangXi Road
广西路37号, 中国山东省青岛市市南区
Built in 1910 and located on the corner of  ZheJiang and GuangXi Roads, next to the old chemist shop, stands the old Courtyard Hotel which is now a ShiNan district police substation.
Site of old German Chemist Shop:
33 GuangXi Road
广西路33号, 中国山东省青岛市市南区
Built in 1901 and located on the northeastern intersection with AnHui Road.
Site of old DeHua Bank:
14 GuangXi Road
广西路14号, 中国山东省青岛市市南区
Built in 1899, this was Qingdao's first bank made of brick and timber with Italian renaissance style architecture.
Miweisiji Library Site:
9 GuangXi Road
广西路9号, 中国山东省青岛市市南区
Built in 1929 and located on the north side of GuangXi Road, at the northwestern intersection with Qingdao Road.
German Priest Site:
5 GuangXi Road
广西路5号, 中国山东省青岛市市南区