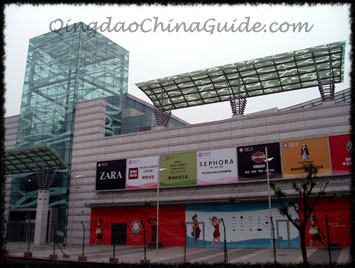 Qingdao International Marina Shopping Plaza (Marina City), located adjacent to the Qingdao International Marina & Olympic Sailing Center (OSC), opened April 16th, 2010. Opening events included Ice Skating, Ferrari, and Harley Davidson Motorcycle exhibitions. Marina City has become one of Qingdao's premier shopping destinations.
Where is Qingdao Marina City Located ?
Qingdao Marina City (百丽广场)
88 Aomen (Macao) Road
Shinan, Qingdao, Shandong, China
澳门路88号, 中国山东省青岛市市南区
Telephone: +86 (532) 6606-1666
Hours: 09:00am – 11:00pm
Popular Businesses in Marina City:
Dairy Queen (DQ), Starbucks Coffee, HeLv Rotary Sushi, Watsons, Coodoo, Tong Ren Tang Medical Store, Mcdonald, BHG Market Place, SIYO Rink, Broadway Cinema City, H&M, ZARA, Hush Puppies, Harley-Davidson, Lenux and Replay.