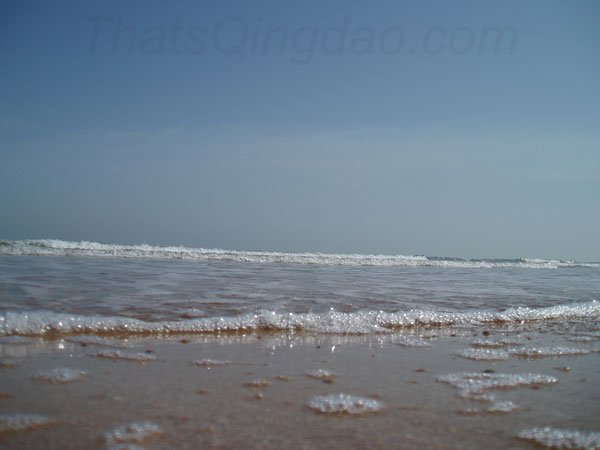 Qingdao, what can I say? Nights on the beach, lights off the sea, waves crashing and fresh air. I'll always remember the fresh air of Qingdao. The sea sucks up the pollution and gives you a smell of fresh ocean goodness. At night I used to hit the
beach
and revel in the simple pleasure of being near such a powerful and beautiful thing. The ocean is one of Qingdao's best features. You can easily find a place on a rock or sandy spot to be alone, reflect on the wonders of nature and the amazing power of the sea and the tide. Qingdao is not a typical Chinese city.
Although it is big enough to offer all the Western comforts of home, it retains a simpleness and small town feel. You CAN get away from it all in Qingdao. You can find a place to relax. And the city itself does not feel like the bustling metropolis it is becoming. Qingdao offers the best of both worlds. If you crave the authentic Chinese experience, you can immerse yourself in Chinese culture and make as many Chinese friends as you want. You can learn Chinese from anyone, as the locals are enthralled and impressed by foreigners who show an interest in the language. On the other hand, if you crave the company of other foreigners, the city is ripe with them. Just find a local nightclub and foreigners are in abundance. If you're like myself though, you want to avoid the "foreign" crowd because it takes away from the authentic Chinese experience. I mean, if you want to hang around with other foreigners, then stay home.
I came to China to experience the culture. Not to segregate myself as a foreign community in another country. Should you go to Chinese discos? Yes, you should. There you will meet real Chinese party people, and although you will most likely hate the crazy techno music they blast at insane volumes, you can meet some cool people there. Most foreigners are intimidated by Chinese discos, so you will have the opportunity to meet many friendly Chinese guys and girls. Chinese are not by nature violent unless provoked. Relax, smile, and no one will give you a hard time  unless you act belligerent or perverted. In summation, Qingdao is a great place for people who want a mix of the old and the new, the East and a bit of the West.