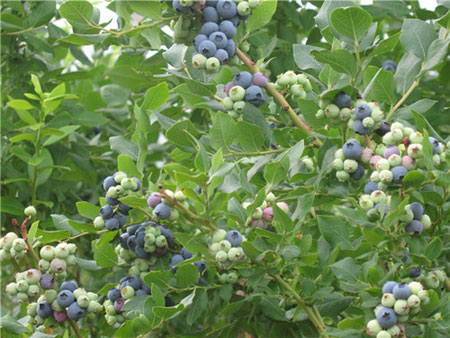 Laoshan Blueberry Picking Festival lasts until July 20th, 2011: Laoshan of
Qingdao
is well known for its beaches, spring water, tea, and annual cherry festival. Most recently
Mount Lao
has become popular for its annual blueberry festival. The Qingdao Blueberry festival takes place at the Laoshan Blueberry Ecological Garden.
The entire park covers an area of 500 acres, 100 acres of blueberries, 60 acres of local Laoshan cherries, 40 acres the larger Bing cherry, 30 acres of apricot, plus 70 acres of mountain recreation areas.
In addition to the blueberry festival, the garden hosts a cherry festival in May and a vegetable gathering festival in October where visitors and Qingdao locals can pick berries and vegetables with their own hands and taste the fruits of their labor at home.
Telephone: + 86 (532) 8090-7227
Admission: 125 RMB / person (20% off Monday to Friday)
Location: Laoshan Blueberry Ecological Garden
行车线路:松岭路—滨海公路—海洋大学—北宅路口左转—北宅街道办事处—蓝格庄右转—毕家村南山—崂山蓝莓生态园 预约电话:0532-80907227 票价:125元/位(周一至周五八折) 网上.  地点:青岛市崂山区北宅街道毕家村南山.