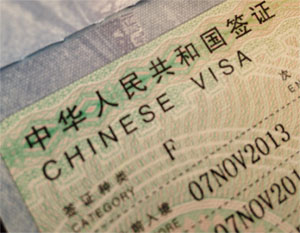 One hot topic for interns who decide that the prospect of work experience in China is worthwhile, is the China Visa. It's very important to get the correct visa for your stay in China and with increased scrutiny at the moment, interns should be aware of the regulations for visas.  Since the visa regulations changed in 2013 and new visa types were introduced, the process of finding out which visa is required for an internship has arguably become more ambiguous. Our current understanding is that students should apply for an M Visa (business visa) for an internship.
We have faced various challenges relating to China visas for our interns over the years, with changes in regulation and differences between what local authorities and visa centres worldwide consider to be the correct visa. We try to stay on top of all information released and ensure our interns have the correct visa for their stay in China.
It's important to bear in mind that interns in China are not permitted to earn a salary as part of their program, as this is seen as working rather than interning. Interns who arrange their placement directly with companies in China as opposed to using an agency such as Intern China should bear this in mind. There are some articles out there which recommend that a Z-Visa and residents permit are required for interns, which is simply not the case, as a Z-Visa for working in China is only issued to graduates, so would be impossible to obtain for current students who are doing an internship as part of their university course. InternChina's stance is that the visa regulations in China are not to be taken lightly and in the eyes of the law, interns in China should not receive payment during their internship.
Having been placing foreign students with internships in Qingdao for over 6 years, InternChina have built up plenty of experience when it comes to bringing students to China. An internship in China is undoubtedly a unique and fascinating experience and something that can help you gain a knowledge of the Chinese business world which goes way beyond a nice entry on your CV. Interning in China as a student offers up its fair share of challenges and the process of finding an internship and arranging your stay in China can be difficult. On this basis InternChina have built up a successful business whereby their local knowledge, experience and support for students makes the process of interning in China much easier.
I am adamant that despite the costs involved in interning abroad, relevant experience in emerging markets is essential in the modern job market for graduates looking to work in international businesses. As a British graduate who fields hundreds of internship applications every month, I feel that British students and graduates in particular are now more likely to work part-time in bars, restaurants and call centres to fund their ever-increasing tuition fees and living costs. Although this is understandable for a generation which has witnessed the danger of living with large financial debts, it puts Brits at a distinct disadvantage compared to their mainland European neighbours who have lower tuition fees and can afford to venture abroad or take unpaid, yet relevant work experience which bolsters their chances of getting a job with international companies after graduation. InternChina alumni are reaping the rewards of their experience in Qingdao and their success has resulted in a growing network of partner universities who trust Intern China to place their students, and a British Council funded program which now offers funded InternChina placements.
Jamie Bettles