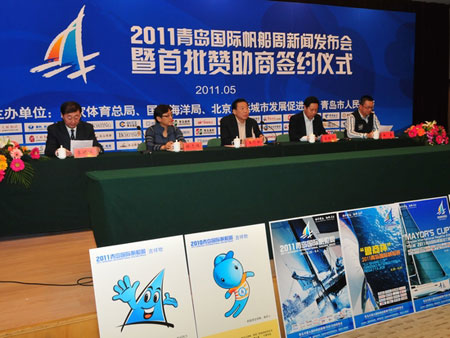 Qingdao, China's Sailing City, is gearing up for its annual International Sailing Week which will start on August 20th and last until September 4th 2011. Held at the Qingdao International Marina & Olympic Sailing Center (OSC), this year's events will include eight themed activates covering the boating industry while promoting China's sailing culture. There will also be three sailing matches held during the week.
The 2011 International Sailing Week racing events will include the "Mayor's Cup" Qingdao International Sailing Rally (Weihai – Qingdao: August 29th to September 4th), "Lu Shang Cup" Qingdao International Regatta (August 18th to August 24th), and Qingdao International OP Class Sailing Camp (August 16th to August 25th) with International Optimist Sailing Regatta for youth.
With over 1000 participants from 20 countries/regions invited to participate in a series of sailing activities, this year's International Sailing Federation sponsored OP training camp will further promote sailing for future generations and ensure Qingdao's future as China's International Sailing City.
Awards from this years event will be presented by International Sailing Federation (ISAF) & World Union of Olympic Cities and International Group of Olympic Museums.
Qingdao is determined to put Shandong Peninsula on the map as one of China's leading "Blue Economic Zones".