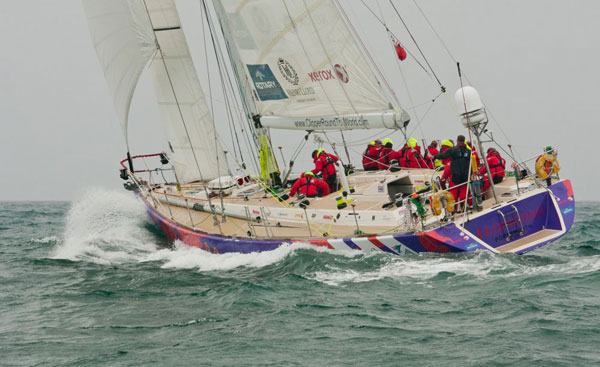 The race from Singapore to Qingdao,
China's Sailing City
,  proved to be brutal as teams battled rough seas to only find themselves in a mine field of fishing boats and near misses with giant cargo ships.
Many sleepless nights by crew members to stay on top of the leader board paid off for the Dutch team De Lage Landen who took first followed by Geraldton Western Australia and Gold Coast Australia, respectively.
"Gold Coast Australia has diverted to Taiwan to evacuate an injured crew member after an attempted helicopter airlift proved impossible due to strong winds and a punishing sea state. Tim Burgess, 31, broke his left leg above the knee while working on a headsail change on the foredeck of the yacht, which is competing in the Clipper 11-12 Round the World Yacht Race and is racing from Singapore to Qingdao, China. Waves up to four meters high and winds of around 30 knots have been providing a grueling test for the amateur crews of all ten 68-foot yachts and the conditions."
Clipper 2011-12 teams were greeted with an unprecedented welcoming regatta and ceremony at the Qingdao International Marina & Olympic Sailing Center. The Awards Dinner and Ceremony will take place at the Qingdao Sea View Garden Hotel on February 28th with a unique blend of local Shandong culture and Western theatrical performances in dance, ballet, and magic.
At half way through the 15 races that make up 8 legs of the Clipper 2012-11 Round the World Yacht Race, Gold Coast Australia is leading the overall leader board by more than 20 points.
After a ten day stopover in Qingdao China, Clipper 2011-12 teams will conquer mighty Pacific Ocean as teams depart for San Francisco, California on March 4th, 2012 – the longest race of the series at 5,680 miles and 33 days at sea.
Top Three Podium Finishes of Race 8 to Qingdao
1 – De Lage Landen
2 – Geraldton Western Australia
3 – Gold Coast Australia
Godspeed to all:  Photo © onEdition 2011