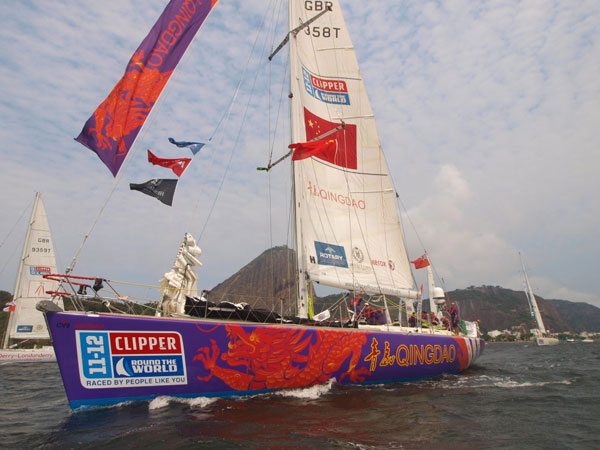 The Qingdao Clipper took 6th place over Geraldton Western Australia in a close race to the finish in Rio de Janeiro. The Qingdao Clipper, representing
China's Olympic sailing city
, managed to avoid the wind holes that trapped Geraldton Western Australia during the last stretch to Rio at the end of the 4,900-mile race from Madeira.
Qingdao Clipper's ecstatic skipper, Ian Conchie, said, "The last three days have been pretty exciting. We came out of the nightmare we had with the wind not being quite how we expected it and then our first goal was to chase down De LageLanden. We spent two days, literally within half a mile of them, trading sail changes. They went inshore; we went offshore and managed to get the advantage there and then it was on to Geraldton Western Australia. And, unbelievably, we caught them!"
Gold Coast Australia celebrated their second yellow pennant of the Clipper Round the World Yacht Race 2011-2012.
The overall standings after race 2 are as follows:
1 Gold Coast Australia – 22 points
2 Singapore – 17 points
3 Welcome to Yorkshire – 16 points
4 New York – 15 points
5 Visit Finland – 15 points
6 Derry-Londonderry – 8 points
7 Qingdao – 8 points
8 De Lage Landen – 7 Points
9 Geraldton Western Australia – 6 points
10 Edinburgh Inspiring Capital – 3 points
Photo © Daniel Zeppe/onEdition