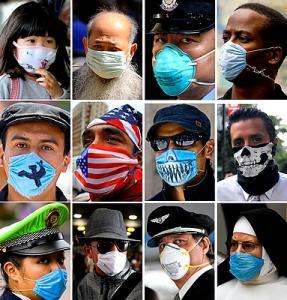 The Chinese mainland saw a rapid increase in A/H1N1 cases that resulted in death in the past few weeks, according to the Ministry of Health. Disease experts predict the A/H1N1 virus will peak in the coming months. The Chinese government has expanded its A/H1N1 vaccination priority group to include pregnant women, migrant workers, and high risk professions such as butchers/veterinarians who may be in contact with infected dogs or pigs.
As the A/H1N1 virus continues to infect a growing number of animal species, the disease becomes more wide spread and increases the risk of mutation into something even more deadly. The first canine infections have just been reported in two dogs from Beijing, China. Pigs are the only other animal species in China known to be infected. In the US, birds, cats, ferrets, and pigs have also tested positive for H1N1 infection, but no canine infections have yet been reported.
The A/H1N1 flu continues to spread and the number of cases, especially serious, is rising. "The epidemic showed high activity as about 91 percent of flu cases were A/H1N1 flu in China. As the New Year and Spring Festival draw near, the country is expecting a huge number of travelers nationwide, which will further increase pressure to control the flu said Deng Haihua, ministry spokesman, at a press conference.
"We will speed up the vaccinations," said Liang Wannian, director of the ministry's emergency reaction office. "Now about 1 million people are vaccinated daily on average. We hope the figure will increase to 1.5 million daily so that as many as vulnerable people as possible will be vaccinated before the Spring Festival."
Things you can do to help prevent contraction of A/H1N1:
Avoid anyone who has flu like symptoms.
Wash your hands regularly, If soap and water are not available, use an alcohol-based hand sanitizer
Avoid touching your eyes, nose or mouth without washing your hands first
Avoid touching/holding other peoples pets (especially dogs & cats)
* So far, across the world, the virus has only been passed from humans to pets.
* Only when the virus mutates within dogs will it be a new threat to humans.
If you are a pregnant mother or in any of the other high risk groups please contact:
International Clinic of Qingdao Municipal Hospital
5 DongHai Middle Road
Telephone: +86 (532) 8593-7690, 8593-7678
ShiNan District > Fushan Bay Area (Central Qingdao)
Qingdao, Shandong Province. P.R. China
青岛市立医院, 东海中路5号, 中国山东省青岛市