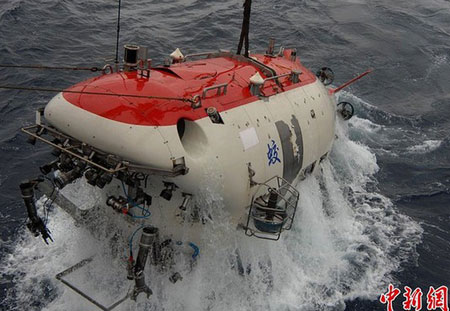 Qingdao,
China's Sailing City
, will become home to the Sea Dragon (JiaoLong  蛟龙) which is China's first ultra-deep submersible designed to reach depths of 7,000 meters. An ambitious deep-sea ocean-exploration program that was launched in 2002 also includes plans to for a deep-sea exploration center in Qingdao, where the Sea Dragon (JiaoLong  蛟龙) will be based.
According to state media reports, the Sea Dragon (JiaoLong 蛟龙) is attempting a dive to 5,000 meters in the northeastern Pacific, between Hawaii and North America. This planned dive would be the latest milestone for China in a high-stakes technological race once dominated by the U.S., which in 1960 sent two men to the bottom of the Mariana Trench, in the now retired Trieste bathyscaphe, reaching 11,033 meters at the deepest point in the world's oceans.