Qingdao Travel & Living Guide » Attractions & Travel
Prinz Heinrich Hotel – Qingdao Old Town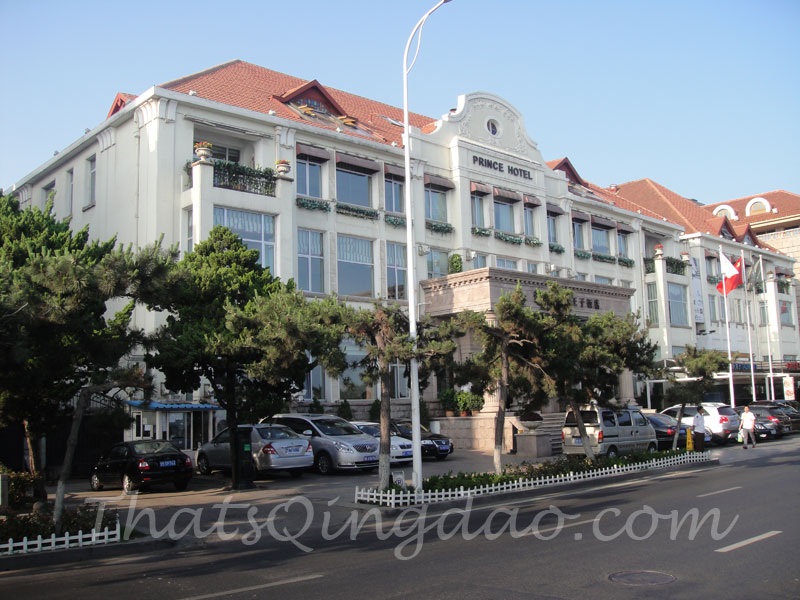 Prinz Heinrich Hotel, named after German Emperor William II's brother Prince Henry, is located in the heart of Qingdao Old Town's seashore district.  It is majestically situated facing south on TaiPing Road looking out at iconic Zhan Qiao which is illustrated on the TsingTao beer label.  Prinz Heinrich Hotel  has south facing verandas and outstanding views of Qingdao Bay with Huangdao in the distance.
Prinz Heinrich Hotel, designed by both Paul Friedrich Richter and Curt Rothkegel from Germany,  was under construction from 1911 until June, 1912 when it was completed.  Constructed of granite, brick, and steel with three stories above ground and one basement, the Prinz Heinrich Hotel has a ground area of 2,570.12 square meters with a floor space of 2,989.42 square meters.  Prinz Heinrich Hotel has a large concert hall & ball room along with several grand banquette halls.
Prinz Heinrich Hotel, now called Zhan Qiao Prince Hotel, has always  been renowned for local Qingdao seafood dishes.  It's a great place to kick off a grand tour of Qingdao Old Town.
青岛亨利王子饭店旅馆旧址地上三层,地下一层,占地面积2570.12平方米,建筑面积2989.42平方米。采取严谨的对称式设计手法,立面为石基粉墙外廊式。整个建筑给人简洁明快的感觉,显得十分庄重。该建筑始建于1911年,落成于1912年6月,建筑师为德国人保尔.费利德里希.里希特。
Site of the former Prinz Heinrich Hotel
31 TaiPing Road
Completed in 1912
ShiNan District, Shandong Province, Qingdao.  P.R. China
青岛亨利王子饭店旅馆旧址: 中国山东省青岛市市南区 太平路31号
Prinz Heinrich Hotel – Qingdao Old Town

,