Qingdao » Business & Real Estate
Grease Monkey (油猴中国) Reminder App for Android
The streets of Qingdao can be rough on your car. Owning, operating and keeping up on the maintenance of your vehicle can be overwhelming. Maintenance involves more than just putting fuel in your car.  If you forget to put gasoline in your car, your car just stops running until you add more fuel, with no damage to the engine.  However, if you forget to change the
motor oil
 for too long, it could permanently damage the engine, requiring expensive repairs and reduce the value of your vehicle. Don't you wish there was a way to be automatically notified of such maintenance, so costly repairs can be avoided? … Just like warning lights or gauges on your dashboard when you are low on fuel or overheating?  Now you can.
青岛的街道会磨损您的车。拥有、操作和不断保养车辆时不可避免的。保养不仅仅是指更换机油。如果忘记给汽车加油,会导致汽车会停在路上无法行驶,但发动机不会造成损害。如果不记得定期更换机油,时间长了会对发动机造成永久性的损伤,不仅会使车辆的价值降低,而且还需要花大价钱进行维修。有没有办法可以避免这种问题的发生,就像车内的油表警示灯一样随时进行提醒?答案是:有。我们可以为您提供解决方案。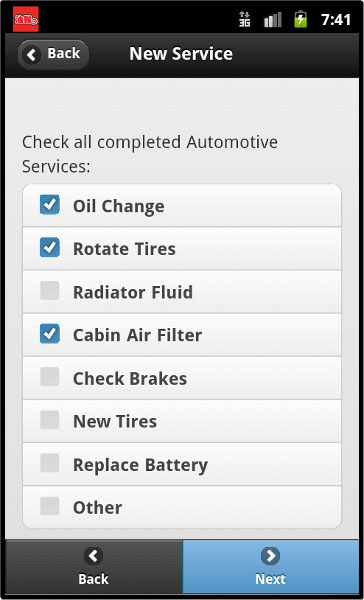 Solution
With Grease Monkey's NEW Reminder Application, your Smartphone can remind you when it is time to change your vehicle motor oil, radiator fluid, transmission fluid, gear box fluid, tires, air filters,
brakes
or battery.  The Grease Monkey (油猴汽车快修) Reminder Application for Android Smartphones allows you to set those maintenance reminder notifications such as an Oil Change every 3 months or 5000 KM (3000 miles), whichever comes first  or other Preventive Maintenance services.  It can also be used to connect to the Grease Monkey website to get center location information, driving directions, monthly promotions and provide valuable feedback.
Yet another reason Grease Monkey (油猴中国), headquartered in Qingdao, Shandong, continues to be a leader in automotive service and maintenance.
Grease Monkey Reminder App
Google Android is one of the most popular Operating Systems for Smartphones in China. Sign up to download your free Reminder App today.
油猴汽车快修的新开发的智能手机的应用,可以提醒您按时做换油保养,更换防冻液、变速箱油、轮胎、空气滤芯、刹车或者电瓶。基于安卓系统智能手机的油猴汽车快修提醒应用,可以设定保养时间的提醒。例如,设定换油保养的时间为每3个月或5000公里(3000英里)以先到者为准。此应用也可以连接油猴汽车快修的官方网站,各个店面的地址,行车路线,每月促销活动以及其他信息反馈。
油猴中国总部位于山东省青岛市。油猴致力于成为中国汽车服务行业的领导者。 谷歌安卓系统是在中国普遍使用的操作系统之一。现在就登录下载免费应用吧。
Grease Monkey (油猴中国) Reminder App for Android

,