The Christian Church – Qingdao Old Town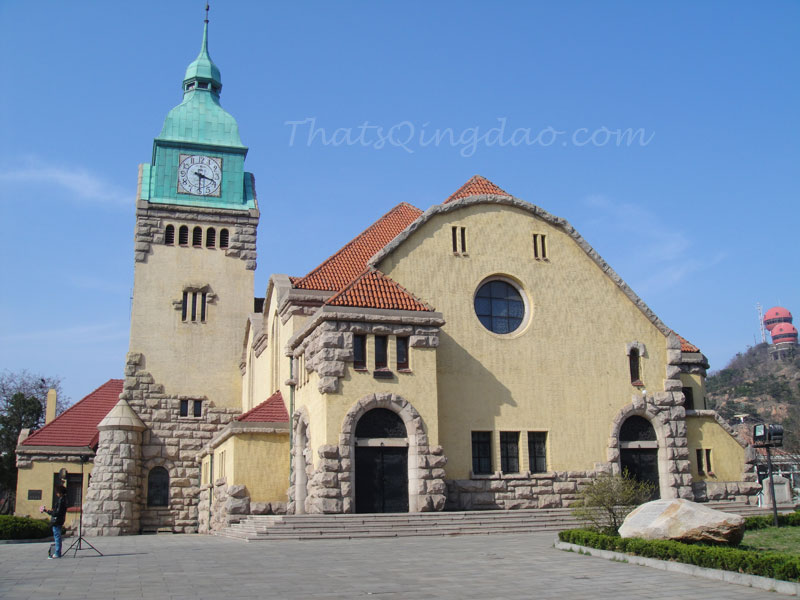 The Christian (Protestant) Church, originally restricted to European residents of Qingdao, was constructed in the early 20th century.  The corner stone of the church was laid on April 19th, 1908 and the building was completed on October 23rd, 1910.  Following the Romainesque and Jugendstil styles of Germany, the Christian (Protestant) Church stands as one of the most impressive buildings during the Germany's Occupation of Qingdao.  It's powerful and magnificent design by Curt Rothkegel of Germany was constructed of brick, Mount Lao granite, steel, and wooden beams.  The interior of the church is simple in design and Lutheran in its sparseness, apart from the elegant carvings on the pillar cornices.  Qingdao's Christian (Protestant) Church of Old Town has a floor space of 1,167.18 square meters.  The beige walls are constructed of red brick and coated with corrugate mortar and paint.  The eves are inlaid with rough cut granite and most corners are decorated with protruding stones of granite.
At present it holds Christian services on Sunday (only in Chinese) and is under the protection of Shandong Province, Qingdao China.
青岛基督教福音堂是一座当时专供欧洲人使用的基督教教堂。建筑面积1167.18平方米,平面呈不规则矩形,入口置于南侧。墙面为米黄色波纹状粉刷抹面,檐口采用粗糙花岗岩石镶嵌,局部转角又设置石块垂挂。建筑为德国罗马风和青年风格派样式,外观雄壮。建筑的结构体为砖石混合式,同时配以钢木屋架,是德占时期建筑之精品。该建筑于1908年4月19日奠基,1910年10月23日落成,由德国建筑师罗克格设计。现为山东省省级文物保护单位。
Site of the former Christian (Protestant) Church
15 JiangSu Road
Completed in 1910
ShiNan District, Shandong Province, Qingdao.  P.R. China
青岛基督教福音堂: 中国山东省青岛市市南区 江苏路15号
Photograph © Colton Dirks
The Christian Church – Qingdao Old Town

,