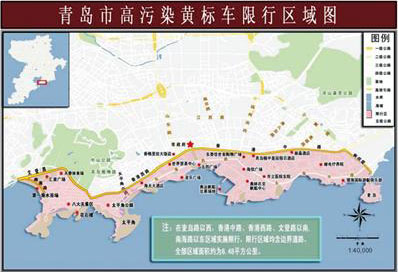 Qingdao,
China's Sailing City
and home of the largest beer festival in Asia, in an effort to improve air quality will ban high pollution emission vehicles from operating on the road in the Shinan District Tourist Zone from 7:00am-8:00pm.
The tourist zone runs south of Hong Kong Road and extends from Qingdao's Old Town in Shinan district to the rocky shores of Maidao on the edge of Laoshan district.
The restricted area is colored pink in the illustration on the above-left.Except for ambulances, fire engines, engineering rescue, and public transportation, all other vehicles are banned from operating in the restricted zone from 7:00am-8:00pm.  Violators will be fined 200RMB.
Specifically, if the car does not comply with the National I Emission Standards then it is considered a high pollution emission vehicle.  Generally, all vehicles produced before 2000 are considered high pollution emission vehicles.
The Qingdao city government offers special grants and incentives to local citizens who wish to trade in their "yellow marked vehicles".
Source:
www.qingdaonews.com/gb/content/2012-03/20/content_9159175.htm
Qingdao Set to Improve Air Quality

,