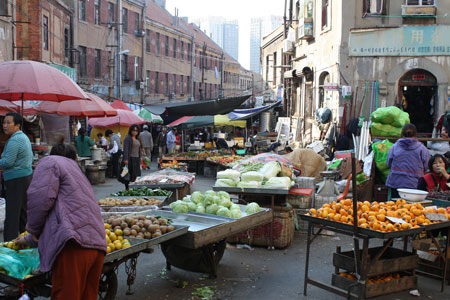 Qingdao has some of the greatest open air markets in China.  After several trips to Beijing it is apparent that Qingdao, yet a modern city with all the comforts, still has and cherishes some of the customs of old.
The photo on the left was taken at a popular open air bazaar in Qingdao Old Town located on historical Huangdao Road (黄岛路).
In fact, during summer months tourists will buy local crabs, clams, or shrimp from the outdoor market and bring it to one of the many local brew stands (below) to have it cooked up while they sip on Qingdao's locally produced and world famous Tsingtao beer.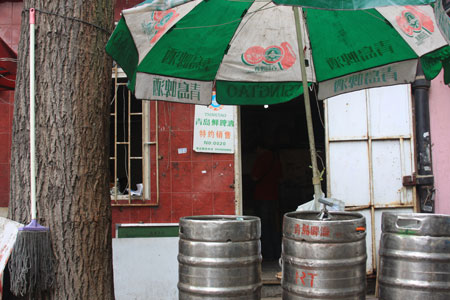 It seems that the produce and seafood in most of the open air bazaars are of better quality and more reasonably priced than what can be found at Jusco and/or Carrefour.
However, the best meat in Qingdao, without a doubt, can be found at XinKuai.  Jusco's meat is now supplied by XinKuai.  You can find cheaper good quality meat for BBQs at Carrefour.
Huangdao Road Open Air Market
ShiNan District > Old Town
Qingdao, Shandong Province
Qingdao Open Air Markets

,