Qingdao International Marina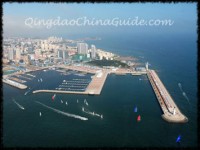 Qingdao International Marina:  After China won the bid to host the 2008 Olympic Games in which Qingdao was to host the sailing regattas, construction of a 45 hector International Marina at a cost of 470 million USD began in 2004.
Prior to the Olympic games, Qingdao hosted the Clipper 2006 & 2008 Races.   After successfully hosting the regattas of the 2008 Olympics, Qingdao not only hosted the 2009 Volvo Ocean Race but also in 2010 the Clipper Race returned for a third time.
Source: Qingdao Tour Guides, Translators, & Interpreters
Qingdao International Marina

,